Siti Khadijah, Johari (2016) The relationship between self-efficacy, career satisfaction, organizational commitment and career commitment. Masters thesis, Universiti Utara Malaysia.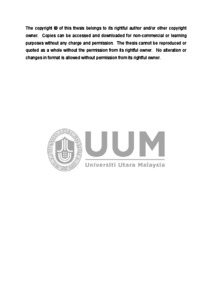 Preview
Text




s813630_01.pdf


Download (339kB) | Preview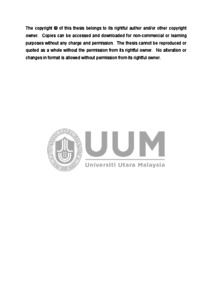 Preview
Text




s813630_02.pdf


Download (357kB) | Preview
Abstract
The employees' career commitment is important for the organization to accomplish their vision and mission. The committed employee will lead the organization to become productive, efficient, high performance and can reduce all the cost incurs in the organization. The purpose of this study is to determine the relationship between selfefficacy,
career satisfaction, and organizational commitment with career commitment. This study examines if self-efficacy, career satisfaction, organizational commitment are influencing career commitment among engineer in a manufacturing company which located in Johor Bahru, Malaysia. In this study, 200 questionnaires were distributed to the Engineering Department in a manufacturing company, but only 133 questionnaires were used for further study. The database used to analyze the data is "Statistical Package for Social Sciences" (SPSS) version 22. The study utilized the reliability analysis, factor
analysis, descriptive statistics, Pearson correlation and regression analysis. Results of
regression analysis showed that 36.4 % of the factors in this study contributed to the career commitment. The result indicated that self-efficacy and organizational commitment have significant and positive relationship with career commitment. Thus, the organization should implement effective strategy to sustain their talented employees in
the organization. Therefore, the organization should fulfill their employees' needs and desires in order for them to be more committed with their career within the organization.
Actions (login required)