Ahmad Mahreez, Abdul Ghani (1994) The Factors Influencing the Malaysian Chinese Attitudes Towards Learning English as a Second Language. Masters thesis, University of Essex.
Text




Ahmad_Mahreez_Abdul_Ghani.pdf


Restricted to Registered users only
Download (1MB)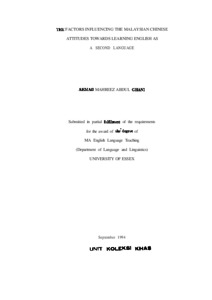 Preview
Text




Ahmad_Mahreez_Abdul_Ghani_1994.pdf


Download (83kB) | Preview
Abstract
There is considerable research done to find out the attributed factors which may influence the motivation and attitudes of a language learner. This study, set in a Malaysian context, attempts to examine some of the possible contributary factors, which can affect the Malaysian
learners' attitudes and motivation, particularly those of the Chinese learners and how they may be related and compared to the relatively poor performances of the Malay and Indian learners. This issue has been of much concern during the recent years and some measures have been taken by the government to reduce the problem such as the implementation of a new curriculum - KBSR and KBSM (both for the primary and secondary schools) and the
reformulation of a new National Education Philosophy (NEP). The fact whether such moves will create a more positive effects to the learners' attitudes and motivation is still remain to be seen. 130 undergraduates at Universiti Utara Malaysia responded to the questionnaires designed to
investigate the learners' language, economic and social backgrounds, as well as their parents' opinions on learning English as a second language. The data collected will be analysed in relation to the 3 hyphoteses proposed in the study. The results indicated that there is a definite change in the learning environment with regard to attitude and motivation of the learners particularly among the Malays and the Indians. In the context of the above
undergraduates, they seemed to be 'immuned' or not affected by their parents' attitudes and socioeconomic background in relation to the learning of English as a second langauge at the university. On the whole, the attitudes and motivation of the learners are positive and
intrumental in orientation. Most significant is the finding that the two mentioned aspects of the Malay and Indian learners have shifted or improved towards a better understanding of the need to learn the target language.
Actions (login required)