Goudar, Swetha Indudhar (2017) Context-aware multi-attribute decision multi - attribute decision making for radio access technology selection in ultra dense network. Doctoral thesis, Universiti Utara Malaysia.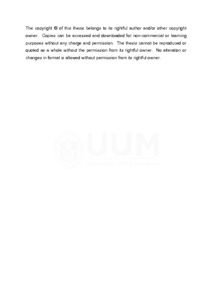 Preview
Text




s95141_01.pdf


Download (1MB) | Preview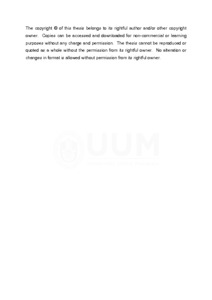 Preview
Text




s95141_02.pdf


Download (261kB) | Preview
Abstract
Ultra Dense Network (UDN) is the extreme densification of heterogeneous Radio Access
Technology (RAT) that is deployed closely in coordinated or uncoordinated manner. The densification of RAT forms an overlapping zone of signal coverage leading to the frequent service handovers among the RAT, thus degrading overall system performance. The current RAT selection approach is biased towards network-centric criteria pertaining to signal strength. However, the paradigm shift from network-centric to user-centric approach necessitates a multi-criteria selection process, with methodology
relating to both network and user preferences in the context of future generation networks. Hence, an effective selection approach is required to avoid unnecessary handovers in RAT. The main aim of this study is to propose the Context-aware Multiattribute decision making for RAT (CMRAT) selection for investigating the need to choose a new RAT and further determine the best amongst the available methods. The
CMRAT consists of two mechanisms, namely the Context-aware Analytical Hierarchy Process (CAHP) and Context-aware Technique for Order Preference by Similarity to an Ideal Solution (CTOPSIS). The CAHP mechanism measures the need to switch from the current RAT, while CTOPSIS aids in decision making to choose the best target RAT. A series of experimental studies were conducted to validate the effectiveness of CMRAT for achieving improved system performance. The investigation utilises shopping mall and urban dense network scenarios to evaluate the performance of RAT selection through simulation. The findings demonstrated that the CMRAT approach reduces delay and the number of handovers leading to an improvement of throughput and packet delivery ratio when compared to that of the commonly used A2A4-RSRQ approach. The CMRAT approach is effective in the RAT selection within UDN environment, thus supporting heterogeneous RAT deployment in future 5G networks. With context-aware selection, the user-centric feature is also emphasized.
Actions (login required)