Sabri, Abdullah (1998) Home Environment And Achievement In English. Masters thesis, Universiti Utara Malaysia.
PDF




SABRI_BIN_ABDULLAH_-_Home_environment_and_achievement_in_English.pdf


Restricted to Registered users only
Download (3MB)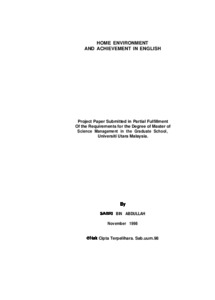 Preview
PDF




1.SABRI_BIN_ABDULLAH_-_Home_environment_and_achievement_in_English.pdf


Download (534kB) | Preview
Abstract
This study was basically an attempt to obtain an insight into the pattern of relationships among students' achievement in English and home environment variables. Specifically, the study aimed to determine the relationship of each of the home environment variables to students' achievement in English and the combined effect of the various home environment variables on students' achievement in English. This study was conducted in six secondary schools in District of Pasir Mas, Kelantan.
A total of 400 students (i.e. 149 boys and 251 girls) from Form Four Science, Commerce and Arts streams were involved. The independent variable in this study was home environmet. The analysis of data was based on one set of questionnaire, i.e. , the home environment questionnaire. The dependent variable in this study was student achievement in the PMR English examination. From the results of the study and a review of literature, it is inferred that the independent variable studied had considerable influence on the dependent variable. The study
also revealed that the three home environment variables combined explained 60.6% of the total variance in English achievement; the best single predictor of English achievement was parental attitudes and expectations; and a substantial amount of variance in English achievement remained unexplained. The findings have significant longterm implications for English teaching and learning in Malaysian schools. In view of the importance of home environment brought to light by this study, it is recommended that parents need to be kept informed of the
objectives and implications of English programmes in schools so that they can provide a supportive environment at home which may help their children do well in English. As the study is a survey based only on the use of self-report questionnaire on home environment, information gathered from the questionnaire though valuable is relatively limited. Therefore it is recommended that a follow-up study be carried out using a more precise
measure and should include a check of the self-reports against actual observations and interviews with teachers, parents and students.
Actions (login required)