Shaiful Annuar, Khalid (1999) Penggunaan Soalselidik Maklumbalas Untuk Meningkatkan Keberkesanan Organisasi. Masters thesis, Universiti Utara Malaysia.
PDF




SHAIFUL_ANNUAR_KHALID_-_Penggunaan_soalselidik_maklumbalas_untuk_meningkatkan_keberkesanan_organisasi.pdf


Restricted to Registered users only
Download (8MB)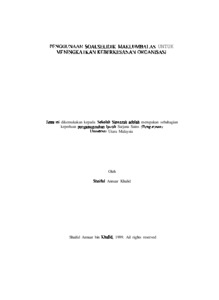 Preview
PDF




1.SHAIFUL_ANNUAR_KHALID_-_Penggunaan_soalselidik_maklumbalas_untuk_meningkatkan_keberkesanan_organisasi.pdf


Download (1MB) | Preview
Abstract
Behavioral scientists have been working since the early 1960s with a comprehensive approach to planned organizational change. Called organization development, or OD for short, it is defined as the application of behavioral science knowledge in a systematic and long-range effort to improve organizational effectiveness. In
particular, OD seeks to help organizations cope with forces for change in their environments, and improve their internal effectiveness. One of the popular methods
in Organizational Development is called survey feedback. This method is a comprehensive and systematic data collection to identify attitudes or perceptions, analyze results, and plan for constructive action. This research has adopted the survey feedback to improve the effectiveness of Mara Institute of Technology Perlis
Branch. The units of analysis are non academic employees and the dependent variable is organizational effectiveness. The independent variables are organizational
climate, team works, personnel development, individual responsibility. social support, the management of meetings, communication and objectives. Descriptive Statistics, Mean and Pearson's Correlation are used to investigate the relationship between independent and dependent variable. The finding showed that there were significant and positive correlation between all independent variables and organizational effectiveness. Organizational climate and communication are found to have the strongest relationship with organizational effectiveness. In general, no significant differences are found in all independent variables based on demographic factors with several exceptions.
Actions (login required)