Rohayu, Ahmmad Romzay (2017) Determining the awareness level of causes on accidents level on causes of accidents and diseases in the selected secondary schools in Sabak Bernam Selangor. Masters thesis, Universiti Utara Malaysia.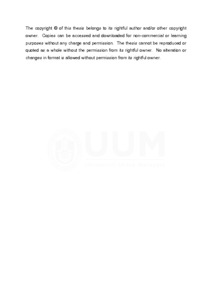 Preview
Text




s820098_01.pdf


Download (11MB) | Preview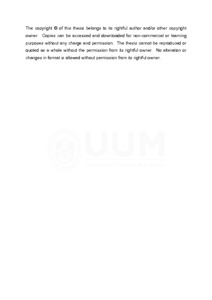 Preview
Text




s820098_02.pdf


Download (3MB) | Preview
Abstract
Recently, many accidents and diseases occurred in educational institutions in Malaysia that involving teachers, staff and students. Most of government organizations and public services do not have a competent person of occupational safety and health to manage and monitor OSH issues in their premises and activities. Hence this quantitative study was conducted to identify the awareness level on causes of accidents and diseases among employees in selected secondary schools in Sabak Bernam Selangor. Moreover, the objective of this study is to investigate the relationship between three factors (human, behaviour and environment) and the awareness level on cause of accidents and diseases. In addition, the instruments that distributed to the 221 employees in selected schools are self-reported questionnaires by using the quota stratified sampling. Most of the
respondents are teachers, general and technical employees as well as administration employees involved in data collection that conducted in May until June 2017. The SPSS version 20.0 was used to analyze descriptive, Pearson Correlation and Multiple Linear Regression analysis to fulfill the research objectives. The awareness level are high with approximately M=4.06. Furthermore the most significant relationship among three factors is environment (r=0.347) while the human and behaviour factors are r=0.297 and r=0.300 respectively. These three relationships are positive significant with 0.000 less than p-value<0.01. Result from the analysis conducted by multiple linear regression, the environment factors has high relationship with the dependent variables of the high beta (β=0.228 p=0.01). As a nutshell, the awareness level should be identifying with other
factors that potential to improve the OSH issue in the educational institutions in Malaysia.
Besides that, the improvement through OSH training and program and enforcement of OSH Act 1994 in public sector must be implement for the safety and health of young generation.
Actions (login required)