Jaafar, Lebai Abdul Ghani (1995) Pemilihan Profesion Perguruan Sebagai Kerjaya: Tinjauan Di Kalangan Guru-Guru Pelatih Lepasan Ijazah Maktab Perguruan Darulaman, Jitra, Kedah. Masters thesis, Universiti Utara Malaysia.
PDF




Jaafar_lebai_Abdul_Ghani.pdf


Restricted to Registered users only
Download (8MB)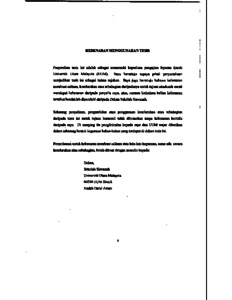 Preview
PDF




Jaafar_lebai_Abdul_Ghani_95.pdf


Download (4MB) | Preview
Abstract
The key issues being discussed in this study were the underlying motives in the choices of teaching of the post-graduate trainees and to find out what were their attitudes towards the teaching profession. The ANOVA and 't' test were administered to see if there were differences in the level of motives and attitudes based on demographical variables such as gender, family backgound and place of origin. The study also investigated the relationship between the motives in undertaking teaching and the attitude towards the profession. The study was conducted on 155 students of the post-graduate teacher-trainees, enrolled at the Institut Perguruan Darulaman, Jitra, Kedah for the 1995/1996 session. The questionnaire was divided into three parts. Part One, to get data on the demographical background of the respondents. Part Two, to determine their motives for choosing teaching as their career, and Part Three to find out their attitude towards teaching. Results of the study showed that altruistic factors such as, teaching provides opportunity to serve the community and the desire to impart knowledge to others, were the motivating factors that attracted them to teaching profession. Other main reason was teaching being accepted as a noble profession. Respondents also disagreed that teaching was their last choice. Data analysis revealed majority of the students have positive attitude towards teaching and had no intention to quit if given the choice to do so. It was also found that there was no difference in the level of motives and attitude of the students based on the demographical variables.
Actions (login required)