Ab. Rahman, Jusoh (1997) Kaitan Kepimpinan Dan Kepengurusan Pengetua Pada Prestasi Disiplin Di Sekolah. Masters thesis, Universiti Utara Malaysia.
PDF




Ab_Rahman_Jusoh.pdf


Restricted to Registered users only
Download (1MB) | Request a copy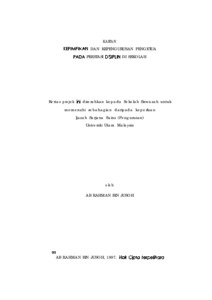 Preview
PDF




1.Ab_Rahman_Jusoh.pdf


Download (212kB) | Preview
Abstract
This case study has been implemented in three secondary schools in the district of Tumpat, Kelantan. The objective of this descriptive study is determine whether there is a correlation between the style of leadership of the principal and the disciplinary performance of the student as has been observed by the teachers concerned.
The study is also to determine whether the disciplinary performance of the student has been influenced by other factors such as school and environment, school rules and regulations, development, the atmosphere of the school and the level of socio-economy of the parents.
The data of the study is obtained through questionnaires from the teachers, interviews with the principal, the observations of the school atmosphere and the disciplinary records of the student.
The result of the study, generally shows that the aspect of
management, administration and leadership which are being practised by every principal has a close relationship to the disciplinary performance of the student.
The style of leadership with is being practised will determine the success of the principal's career. The autocratic principal always looks for efficiency in management whithout considering humanities aspect. A
democratic principal also looks for efficiency in his work, but more commited towards his staff. The principal who thinks more on freedom aspect (Laissez-faire) only produces a minimum production of work just to keep his members of organization. The principal should use his own
discrections to combine the style of democratic leadership and autocratic leadership based on the current situation.
The result of the study shows that the disciplinary performance of the student are better if the principal practises the style of autocratic and democratic leadership according to suitable atmosphere and with the
right implimentation.
Actions (login required)