Jayasegaran, Thavarajah (2008) E-Participation Readiness Among Head of Department in Sony Supply Chain Solutions Malaysia. Masters thesis, Universiti Utara Malaysia.
PDF




Jayasegaran_Thavarajah.pdf


Restricted to Registered users only
Download (774kB)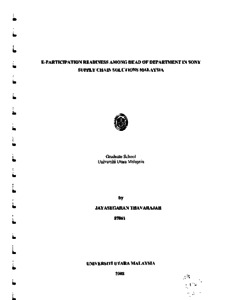 Preview
PDF




Jayasegaran_Thavarajah.pdf


Download (166kB) | Preview
Abstract
Supply Chain Management (SCM) is the process of planning, implementing and controlling the operations of the supply chain efficiently. Supply Chain Management spans all movement and storage of raw materials, work-in-process
inventory, and finished goods from point-of-origin to point-of-consumption. Sony Supply Chain Solutions was established to provide Supply Chain Services to Sony EMCS who produces various audio products to be shipped to customer destination. Sony Supply Chain is responsible for raw parts delivery, empty container delivery and speaker pairing from Sony Kedah Plant . Sony Supply Chain involves in operations such as container delivery, raw material supply and speaker delivery to Sony EMCS thus there will be meetings held to discuss issues and to solve problems. Since Sony Supply Chain HOD is based in external branches which are situated in different Prai Industrial Zone they will need to travel to Sony EMCS to attend meetings to discuss on operation matters. Thus there is an issue on punctuality and timing of attending meetings. There is a need to find a solution for this. We are proposing to implement e-participation to replace current meeting method This research is to asses the readiness of Sony Supply Chain Solutions HOD'S to adopt
E-Participation through netmeeting to replace current meeting method .
Actions (login required)