Dewi Rosnah, Radin Suhadi (1997) Mobility Of Women Administrators In The Education Sector In Kedah. Masters thesis, Universiti Utara Malaysia.
PDF




Dewi_Rosnah_Radin_Suhadi.pdf


Restricted to Registered users only
Download (2MB) | Request a copy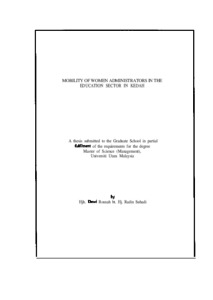 Preview
PDF




1.Dewi_Rosnah_Radin_Suhadi.pdf


Download (198kB) | Preview
Abstract
The purpose of this study was to draw a profile of the women administrators of the secondary schools in Kedah. The emphasis was on their demographic characteristics
and mobility pattern. The second aim was to investigate whether the women administrators differ significantly in both aspects above from their male counterparts.
The population of this study were the Principals, Senior Assistants and Senior Subject Teachers of the secondary schools in the whole state of Kedah. They were randomly
chosen using the Statified Random Sampling Method. The research instrument was a 47-item selfconstructed questionnaire mailed to the respondents. It was designed to collect the following informations: (1) Personal characteristics, (2) Educational background,
(3) Home-related factors, (4) Specific qualities and
(5) Mobility pattern of the administrators. The data collected were analyzed using the SAS programme.
The findings of this study show that women administrators do not differ significantly in demographic characteristics and mobility pattern as compared to their male counterparts. Generally, a typical woman administrator is married, in the 40's and has a Bachelor's Degree. 65.9% of them have served as ordinary teachers between 10 to 19, years while 61.0% have served as an administrator for less than 5 years. 49.6% of them have not attended any training programme concerning school administration before and after being promoted to their present position.
Looking at the mobility pattern, 40.99% of the female administrators remain as teachers in their own districts of origin while 36.2 1% remain as administrators in the same area. They are less mobile and do not prefer to be transfered. When family matters are concerned, 80.6% and 89.7% of them manage to carry out their role as responsible wives and mothers, respectively. They receive good moral support from their husbands both in terms of career-making (91.3%) and promotion (87.9%). Most of them obtain great help either from paid helpers, husband or relatives to do their household chores and manage their children. They do not differ in terms of age, year of graduation, length of service and experience as compared to their male counterparts.
Although the female administrators have a good knowledge in school administration, their skill and attitude towards current position are only fair. Most of them face several
problems regarding mobility towards becoming a Principal. The most frequent obstacles reported are family constraints, lack of confidence and transfer from permanent
residence. However, once they accept the offer, the women give their very best to carry out their duties. They do not differ from their male counterparts in many aspects,
including the level of their knowledge, performance and demographic characteristics.
Actions (login required)