Nabous, Nadir Saleh (2008) Search Engine System for the Holy Quran. Masters thesis, Universiti Utara Malaysia.
PDF




Nadir_Saleh_Nabous.pdf


Restricted to Registered users only
Download (916kB)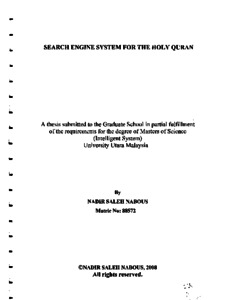 Preview
PDF




Nadir_Saleh_Nabous.pdf


Download (142kB) | Preview
Abstract
People seeking to explore the Holy Quran as a book of Guidance sometimes find it difficult to locate exactly the portion that relates to their quest. Thus there is a need for a search engine to assist users in locating the verses of their interest based on search keyword input. There exists already search engine software for Al-Quran. However it is common for both Arab natives and learners of Arabic to commit Arabic spelling mistakes especially with the use of vernacular languages or Arabic dialect words. This study proposed a query correction mechanism that will convert a vernacular word used in Arabic dialects into word in al Rasm al Othmani, the Arabic text as in the Al-Quran. Nadir's algorithm proposed in this study is an enhancement of the ISRI stemming algorithm and implemented specifically for searching al Rasm al Othmani Arabic text in the Holy Quran. The number of search improves even when the keyword has slight spelling mistakes or with the use words from the Arabic dialects. The prototype has also been validated by three experts with Islamic religious study background.
Actions (login required)