Mohd. Anuar, Kamaruddin (1997) Kepintaran Emosi di Kalangan Guru. Masters thesis, Universiti Utara Malaysia.
PDF




Mohd_Anuar_Kamaruddin.pdf


Restricted to Registered users only
Download (837kB) | Request a copy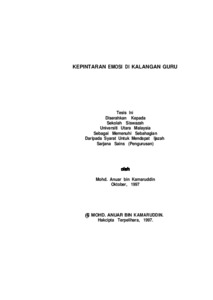 Preview
PDF




1.Mohd_Anuar_Kamaruddin.pdf


Download (199kB) | Preview
Abstract
The purpose of this study is to examine the emotional intelligence among the school teachers by looking at the relationship and the correlation between the emotional intelligence and job satisfaction and life satisfaction.
Respondents were 70 school teachers selected randomly from the IAB-UUM twinning program students and from several secondary and primary schools in Taiping and Batu Kurau area in Perak. Questionnaires were distribute to collect data and analyzed through statistical frequencies and
correlation techniques of Pearson Product Moment.
The results obtained show that the majority of the respondents have the ability in emotional intelligence. The result also shows that respondents who practise emotional intelligence were satisfied with their jobs and their lives. The correlational analysis result shows that four of the five components of the emotional intelligence correlated positively with job satisfaction and life
satisfaction. The four components are managing emotions, recognizing emotions in others, self-motivation and handling relationships. This means that the more the practise of emotional intelligence, the higher the satisfaction of jobs and lives. The results also show knowing one's emotion is not significant with job satisfaction and life satisfaction. The results were
discussed in relation to the literature.
Actions (login required)