Mohd. Azam, Mohd. Isa (1997) Persepsi Guru Terhadap Stail Kepemimpinan Guru Besar. Masters thesis, Universiti Utara Malaysia.
PDF




Mohd_Azam_Mohd_Isa.pdf


Restricted to Registered users only
Download (1MB) | Request a copy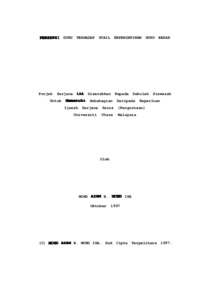 Preview
PDF




1.Mohd_Azam_Mohd_Isa.pdf


Download (210kB) | Preview
Abstract
The purpose of this study is to identify teachers'
perception of primary school towards their headmasters'
leadership style. Demographical factors are used to look
at relation that may occur from teachers' perception
towards these leadership style.
The result of the study shows that teachers' gender,
marital status and teaching periods don't give
significant difference in teachers' perception towards
their headmasters' leadership style whether based on
initiating structure or consideration. But for teachers
aged less than 25 years old show their significant
difference in perceptions towards their headmasters'
consideration aspect, compared to teachers aged between
36 and 45 years old. However teachers' perception towards
headmaster' leadership style are high in both initiating
structure and consideration which means that teachers
perceived all their headmasters' practiced democratic
style of leadership.
Besides, there is a significant difference between
unmarried and experienced female teachers' perception
towards headmasters' leadership style based on initiating
structure. But the perception of this group not
difference in consideration aspect.
Actions (login required)