Mohd. Ghazali, Mohd. Yusoff (1997) Pengamalan Pengurusan Ala Korporat di Sekolah Menengah Kerajaan Dalam Kawasan PPD Padang Terap/Pendang, Kedah. Masters thesis, Universiti Utara Malaysia.
PDF




Mohd_Ghazali_Mohd_Yusoff.pdf


Restricted to Registered users only
Download (1MB) | Request a copy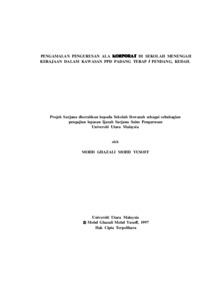 Preview
PDF




1.Mohd_Ghazali_Mohd_Yusoff.pdf


Download (162kB) | Preview
Abstract
The main objective of this study was to see the level of practice of the corporate concept in managing the government secondary school in the District Educational Office (DEO) of Padang Terap/Pendang, Kedah Darul Aman. Three main variable was used to determine the corporate concept - planning, marketing and controlling. This three main variable is consist of nine other small variable - planning - financial, development and environmental;
marketing - promotion, image and customer focus; controlling - sources, quality and human resource.
10 secondary school in DE0 of Padang Terap/Pendang was chosen from 13 of them and all 55 school manager of that school was a respondent for this study. The questionnaire was distributed and collected personally by the writer to ensure the effienciency of data collecting. Data was analyze by SPSS student version 6.0 package to see the frequency and percentage to test the hypothesis. Only the descriptive statistic was used because there is no such study was done before and this study is in a very early stage. The study just want to see whether the concept of corporate management was practice or not without care about
the factors that affect it.
The result of the study found there was a great deal of percentage in the stage of awareness about the important of corporate concept in todays management. But in the stage of practice, in that particular school, percentage is lower (+-71 %).
It is propose that all the school manager in Malaysia have the open and positive minded in practicing the new idea or concept in their management that was proven its effenciency
and effectiveness. The practice of corporate concept in school management or in other organisation will give the good result compared to the old method.
Actions (login required)