Adi Zuraini, Md. Zain (2003) Tekanan Pembelajaran di Kalangan Pelajar PJJ (UiTM). Masters thesis, Universiti Utara Malaysia.
PDF




ADI_ZURAINI_B._MD._ZAIN.pdf


Restricted to Registered users only
Download (8MB)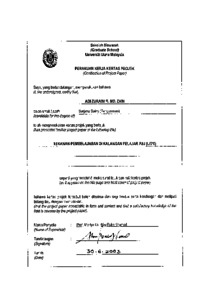 Preview
PDF




1.ADI_ZURAINI_B._MD._ZAIN.pdf


Download (1MB) | Preview
Abstract
The objectives of this study is to see the relationship between students' background, learning environment, employment, occupation and academic achievement of part-time students (PJJ) in UiTM Perlis in relation with stress. The specific objectives is to identify either the PJJ's students of UiTM Perlis facing stress and to see if there is relation with the factors mentioned above. Data collection was made through distribution of questionnaires to the part-time students. The questionnaires require the respondent to state information regarding their background, learning environment, occupation and stress. The data collected was then analyze using t-test to see the differences between sexes, marital status with stress. There is also no significant relationship between the number of children, years of service and salary with stress. However the study reveal the existence of significant relation between stress and the following factors; age, learning environment occupation and academic achievement. Hence, the findings enable the researcher to suggest to all parties involve in part-time education programmed on how to enhance and effective in these programmed in meeting the ultimate objectives.
Actions (login required)