Shukri, Yaacob (2002) Amalan Kerja Beretika Dalam Perkhidmatan Awam : Satu Kajian di Jabatan Polis DiRaja Malaysia (PDRM). Masters thesis, Universiti Utara Malaysia.
PDF




SHUKRI_B._YAACOB.pdf


Restricted to Registered users only
Download (15MB) | Request a copy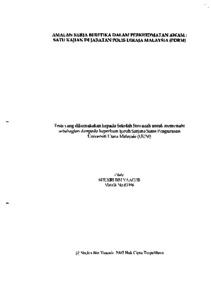 Preview
PDF




1.SHUKRI_B._YAACOB.pdf


Download (1MB) | Preview
Abstract
This study examines the level of work ethics based on one of the five PDRM Code of Ethics - discipline and its relationship with two groups of variables identified as demographic and work variables. The demographic variable include gender, age, race, religion, pay, martial status, education levels, ranks, years of service, year of present ranks, and number of attending in promotion inverviews. The work variables include attitude toward job, work and self discipline, and perception regarding suitability of work. A number of 16 Senior Police Officers and 24 Rank And File & Constables in the Service Deparment, Royal Malaysian Police Force (PDRM) in Bukit Aman, Kuala Lumpur participated in this study. The questionnaire comprises- Section A which captures he demographic profile while Section B with closed ended question on the work variable. The data collected has been processed by using statistical analysis one way ANOVA - Least successfully proven a positive relationship between the education status, years of rank, pay and work variables and significant correlation to work ethics. The findings of this study will be useful to the management to exercise their work policies in order to sustain and enhance discipline in PDRM.
Actions (login required)