Aldahoun, Jamil Yousef Jamil (2010) WEB Application for Cheapest Bus Ticket in Malaysia. Masters thesis, Universiti Utara Malaysia.
PDF




Jamil_Yousef_Jamil_Aldahoun.pdf


Restricted to Registered users only
Download (964kB) | Request a copy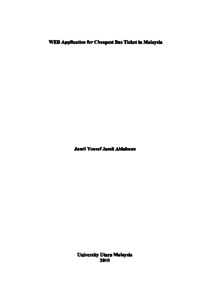 Preview
PDF




1.Jamil_Yousef_Jamil_Aldahoun.pdf


Download (160kB) | Preview
Abstract
There are many kilometers run between Malaysian cities. This wide distances between cites prompt Malaysian to use several means of transportation. Bus transportation is
usually used to travel between cites especially if there is large distance between these cities. Moreover, the online searching assists the people to retrieve the information. When the people find difficulties to retrieve the cheapest bus ticket, information retrieval and online searching offer the technique which can retrieve the cheapest bus ticket.
Actions (login required)