Mujiburrahman, , (2010) Pelaksanaan Sistem Pendidikan Pondok dan Perkembangan di Aceh Selepas Peristiwa Tsunami. PhD. thesis, Universiti Utara Malaysia.
PDF




Mujiburrahman.pdf


Restricted to Registered users only
Download (5MB)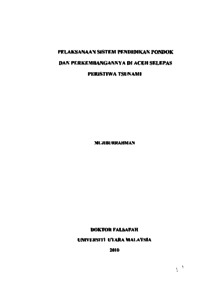 Preview
PDF




1.Mujiburrahman.pdf


Download (365kB) | Preview
Abstract
This study aims to better understand the implementation of Islamic law in Aceh and its influence in Islamic boarding school (pondok) education. There are four main issues examined in depth, namely: 1) How has the history and
implementation of Islamic law been carried out in Aceh, 2) How had pondok developed prior to the implementation of Islamic law in Aceh, 3) To what extent has government involved in the development of pondok education in Aceh, and 4) To what extent is the influence in pondok education after the implementation of Islamic laws and government intervention? Islamic law in Aceh was formally implemented after the passing of Law No. 44/1999 and Law No. 18/2001 as a legal basis used to develop and guide pondok in Aceh. Pondok (dayah), as an Acehnese sub-culture, can not be separated from the social system of Acehnese society. Accordingly, developments and changes in pondok can be analyzed by using social change theories such as phenomenological theory, structural functional theory and the theory of social roles. This field research has been
conducted by using a qualitative approach. The samples were five pondoks that were located in Aceh Besar district and Bireuen district in Aceh province, Indonesia. Respondents of this were 165 people from both inside and outside pondok. This study found that Islamic law was used as a foundation as well as a starting point by the Acehnese government to develop Islamic education in Aceh. Previously, the government did not seriously pay attention to the pondok, so that they did not develop. After the implementation of Islamic law, however, the Aceh government has intervened to the pondok education. The intervention was
realized in the form of policing and various programs connected to development, guidance, and strengthening of the pondok. Such intervention showed a positive influence in changes and developments in Pondok (dayah) education. Changes and developments consisted of: 1) Pondok infrastructures, 2) Administration and management, 3) Curriculum and instructional media, 4) Quality of pondok
teachers and students, and 5) The formation of working networks amongst pondok. The result of this study is very important for the Government of Aceh to assess the results of interventions that have been done as well as to become the basis for future improvements. It could also be applied as a model that can be used use both by national and international education institutions in an effort to build,
develop, and strengthen Islamic education institutions.
Actions (login required)