Damkhi, Mouslem (2012) Mobile Based Linear Programming Solver Application (MBLPSA). Masters thesis, Universiti Utara Malaysia.
Text




MOUSLEM_DAMKHI.pdf


Restricted to Registered users only
Download (1MB)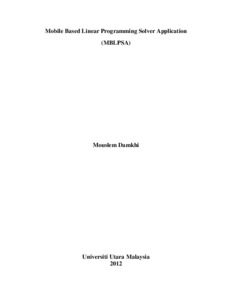 Preview
Text




MOUSLEM_DAMKHI.pdf


Download (340kB) | Preview
Abstract
Mobile technology has developed during the last few years. Due to this fast development in this field, subscribers of today are enjoying the use of many applications ranging from data, voice, audio to video irrespective of the place where they are stationed or moving. This study focused on the development one of mobile applications which is a Mobile Based Linear Programming Solver Application (MBLPSA). The linear programming is considered one of the basic methods using by the decision makers and scientists, but owing to its complexity in solving of the linear problems that is lead to prove the important roles of the computer applications to hold and solve that kind of problems. But the luck of the availability of computer devices and web applications any where can cause some obstacles for the users. If the system can be automated and made available on mobile access, it will solve that issues currently faced by them. This study proposes to design and to develop a mobile linear programming solver application which can be ensure the solving of the linear programs anytime and anywhere through the using of the mobile devices. The study proposes to follow the research adopted from System Development Research Methodology (SDRM) proposed by (Nunamaker & Chen, 1990); due to its suitability for small to medium sized development projects or applications. Finally it has been proposed conduct a usability test on the prototype developed for ease of use and user friendliness with the aid of a questionnaire.
Actions (login required)