Chandrasegran, Ganeson (2014) Pengaruh persepsi keselamatan kerja ke atas prestasi keselamatan : Kajian ke atas pekerja pembinaan di Lok Yam Kung Enterprise Sdn. Bhd. Masters thesis, Universiti Utara Malaysia.
Text




s809050.pdf


Restricted to Registered users only
Download (3MB)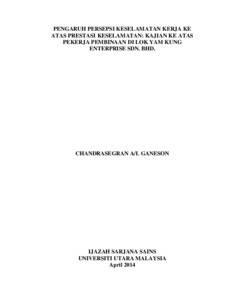 Preview
Text




s809050_abstract.pdf


Download (637kB) | Preview
Abstract
Employees' safety especially in the high risk industry like construction industry become a big concern to the employers because the employees face the different hazard and environment. There were limited studies on safety being carried out involving the construction worker compared to other employees. Safety trainings and awareness programmes had been aggressively put into actions to get the staffs
involvement and commitment over safety yet there are still incidents and accidents at construction site involving construction workers. Safety compliance involving compliance activities to safety needs to follow by individuals in order to maintain safety in the workplace, such as wearing protective equipment. Meanwhile,
participation in safety involves co-workers assistance, promote workplace safety program, show initiative and put effort in improving safety in the workplace. This study was conducted to determine the influence of the perception on work safety on safety performance among construction worker and their perception on safety. A total of 100 questionnaires were distributed to the sample chosen on the study consisting of five independent variables of Work Safety Scale that are: (a) job safety, (b) co-worker
safety, (c) supervisor safety, (d) management safety practices and (e) satisfaction of the safety programme and compliance safety behaviour as the dependent variables.
The results revealed the perception on WSS among the construction workers were high. Finally, the finding of the study also shows that job safety, co-worker safety,
supervisor safety, management safety practices and safety program and policies were significantly related to safety compliance behaviour.
Actions (login required)