Ghanim, Salam Abdulabbas (2014) Student success model in programming course: A case study in UUM. Masters thesis, Universiti Utara Malaysia.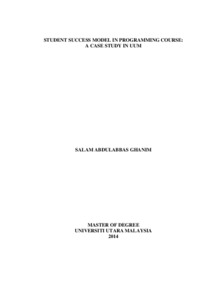 Preview
Text




s809909.pdf


Download (1MB) | Preview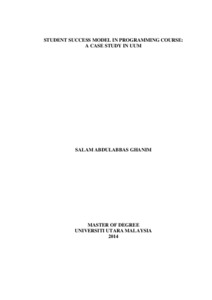 Preview
Text




s809909_abstract.pdf


Download (637kB) | Preview
Abstract
The complexity and difficulty ascribed to computer programming has been asserted to be the causes of its high rate of failure record and attrition. It is opined that programming either to novice, middle learner, and the self-branded geeks is always a course to be apprehensive of different studies with varying findings. Studies on factors leading to the success of programming course in higher institution have been carried out. The record at Universiti Utara Malaysia (UUM) shows that 38% of semester one undergraduate students failed the programming course in 2013. This
really motivates this study, which aims at investigating the practical factors affecting
the success of programming courses, and to position its' theoretically findings to
complement the existing findings. Data were gathered using a quantitative approach, in which a set of questionnaire were distributed to 282 sampled respondents, who are undergraduate and postgraduate students of Information Technology (IT) and Information and Communication Technology (ICT). Having screened and cleaned the data, which led to the deletion of four outlier records, independent T-test,
correlation, and regression were run to test the hypotheses. The results of Pearson
correlation test reveal that teaching tools, OOP concepts, motivation, course evaluation, and mathematical aptitude are positively related to academic success in programming course, while fear is found to be negatively related. In addition, the regression analysis explains that all the elicited independent variables except fear are strongly related. Besides, the independent T-test also discovers no deference between groups with and without previous programming experience.
Actions (login required)