Ahmad Kamal, Abdul Shukor (2013) Gaji menurut as-sunnah : Satu kajian di Institusi Pendidikan Negeri Kedah. Masters thesis, Universiti Utara Malaysia.
Text




s800744.pdf


Restricted to Registered users only
Download (1MB)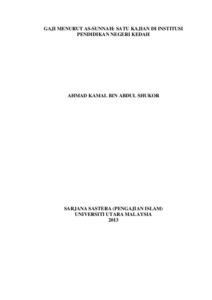 Preview
Text




s800744_abstract.pdf


Download (503kB) | Preview
Abstract
This research aims at analyzing the concept of salary according to as-sunnah (Prophetic Tradition) and its implementation at Kedah State Educational Institution (abbreviated as IPNK). Until now, no research has been done in detail regarding the concept of salary according to as-sunnah and its implementation at IPNK. This scenario has been worsened by misunderstandings about this concept among
education officers of IPNK. Therefore this research examines the salary payment according to as-sunnah, identifies the salary payment methods, scrutinizes the executions of the salary payment and analyzes the implementation of salary payment at IPNK based on as-sunnah. This research uses the qualitative method and the triangulation approach, while observation and interviews are utilized as tools of data
collection. The research interviewed 50 respondents from Kolej Universiti Insaniah, Maktab Mahmud and three other religious secondary schools as the sample to understand the current salary payment system. The research found out that the implementation of the salary payment to education officers is in agreement with the teachings of as-sunnah. However the implementation of the salary payment still does
not commensurate with the qualifications of the education officers. This occurred due to the lack of permanent post vacancies at IPNK. Thus this research suggests that among ways of overcoming this imbalance is to standardize salary payment in accordance to the qualifications and to offer permanent post to officers who have served more than five years. It is hoped that this research will be used as a guideline in the salary payment implementation so as to motivate the staffs in order to ensure working satisfaction and improve the work quality.
Actions (login required)