Alaa Uddin, Abdul Hamid (2014) Kepimpinan pengetua wanita daripada perspektif Islam, kajian di SMK daerah Perak Tengah. Masters thesis, Universiti Utara Malaysia.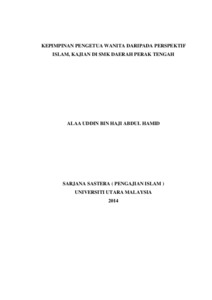 Preview
Text




s87035.pdf


Download (1MB) | Preview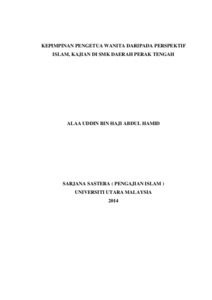 Preview
Text




s87035_abstract.pdf


Download (459kB) | Preview
Abstract
The present situation shows the increasing number of female principals in Malaysian
secondary schools. Despite numerous studies being conducted but only a few has examined this topic from the Islamic perspective. The issues regarding female leadership has been questioned when it is related to the gender and leadership factors. This study has three objectives namely to identify the Islamic Worldview on working women, to investigate the concept of female principal leadership based on Islamic perspective, and lastly to describe the female principal leadership style that suits current demands and simultaneously aligned with the Islamic perspective. In achieving these objectives, the qualitative method has been adopted and the triangulation approach involving library research, observations as well as interviews have been applied. The library research encompassed books, articles, the study of selected text of the Qur'an, Hadith and works by Islamic scholars. Furthermore, structured interviews were carried out involving a total of 63 respondents consisting of nine female principals and 54 teachers of Perak Tengah district's secondary
schools. The finding has shown that the female principal leadership is aligned with Islamic Worldview. In addition, the finding has also shown that female principal leadership is within the boundary of Wilayah Khassah concept which is permissible in Islam. In the aspect of leadership style, the study has found that female principal leadership style is appropriate with the current demands and is aligned with the Islamic perspective. The respondents have agreed that gender is not the main factor in determining the effectiveness of female principal leadership. On the contrary, it
has been influenced by the factors of environment, personality, emotion and motivation. The finding of this study has contributed to other past studies on female
leadership from the Islamic perspective as well as providing suggestions in improving leadership and quality of management in schools.
Actions (login required)