Adebola, Babatunde Dorcas (2014) The determinant of information security practices towards organizational performance in the banking sector evidence from Nigeria. PhD. thesis, Universiti Utara Malaysia.
Text




s92899.pdf


Restricted to Registered users only
Download (9MB)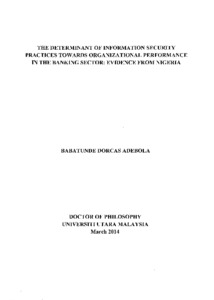 Preview
Text




s92899_abstract.pdf


Download (9MB) | Preview
Abstract
This study examines the determinant factors of information security practices towards
organizational performance among Nigerian banks. To achieve this, a framework that consists of technological, organizational, and environmental (TOE) factors is proposed
using information security culture as a mediator of TOE factors. The framework
identifies the factors influencing information security practices among Nigerian bankers.
Findings using TOE will eventually lead to the improvement of organizational performance through the establishment of information security culture among Nigerian banks. Thus, the use of information security practices will assist in reducing human factors such as errors, failures, internal incidents and social engineering attacks. A questionnaire survey was designed to obtain data on information security culture, organizational performance, organizational, environmental and technological factors. Multiple regression was used to test for the relationship between organizational
performance, information security culture, TOE factors and the reliability and validity of
the data. The findings indicated that perceived technology advancement, information security policy and procedure, international security standard, information security awareness, perceived training programs, motivation of employee and perceived job roles and responsibilities significantly influence the organizational performance. The remaining variables have no statistically significant influence on organizational performance. Also, this study found that information security culture significantly mediates the relationship between organizational performance and TOE factors. Thus, the result of this study shows that the objectives of this study were achieved.
Actions (login required)