Ochuko, Tobi Kingsley (2016) Winsorized modified one of step M-estimator in Alexander-govern test. Masters thesis, Universiti Utara Malaysia.

Preview
Text




s813614_01.pdf


Download (4MB) | Preview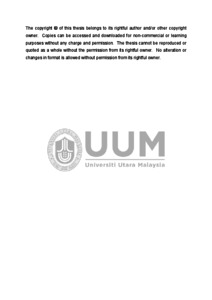 Preview
Text




s813614_02.pdf


Download (4MB) | Preview
Abstract
This research centres on independent group test of comparing two or more means by using the parametric method, namely the Alexander-Govern (AG) test. It uses mean as its central tendency measure and is considered as a better alternative to the ANOVA,
the Welch test and the James test. Although the AG test has a good control of Type I error rate and produces a high power under variance heterogeneity, it is not robust to non-normal data. Thus, trimmed mean was proposed in the test to handle the problem
of non-normality and later, a more robust estimator called modified one step M (MOM) estimator was introduced. These estimators are not influenced by the number of groups, but failed to give a good control of Type I error rate, under extreme
conditions of skewness and kurtosis. This research proposes the Winsorized MOM (FFWOM) estimator as a measure of central tendency in attempt to robustify the AG test. This enhanced AG test, AGWMOM is able to remove the appearance of outliers from the data distribution. A simulation study of 5,000 data sets was conducted to compare the performance of the tests: AG, AGMOM (AG test using MOM estimator),
AGPMOM, t-test and ANOVA. The results show that the AGWMOM test has improved the number of robust conditions under skewed normal tailed and skewed
heavy tailed distributions compared to the other tests. Additionally, the test produced high power in most conditions under four groups with unbalanced sample size. It leads that this test is convenient specifically when the data distribution is heavy tailed.
Actions (login required)