Sofiah, Zakaria (1999) Pengurusan Konsep Kendiri Ke Arah Kecemerlangan Akademik. Masters thesis, Universiti Utara Malaysia.
PDF




SOFIAH_ZAKARIA_-_Pengurusan_konsep_kendiri_ke_arah_kecemerlangan_akademik.pdf


Restricted to Registered users only
Download (3MB)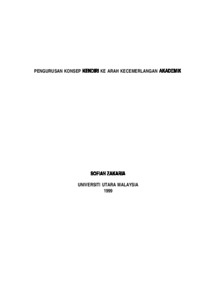 Preview
PDF




1.SOFIAH_ZAKARIA_-_Pengurusan_konsep_kendiri_ke_arah_kecemerlangan_akademik.pdf


Download (642kB) | Preview
Abstract
The study involves one hundred and sixty five Form Four students of Sekolah Menengah Sultan Abdul Halim, Jitra, Kedah. Male and female students from different streams are chosen as samples for the study. The main objective of the study is to find out the relationship between self-concept
management and academic management among students based on the Penilaian Menengah Rendah (PMR).
The term self-concept used in the study is non academic which encompasses the physical, social and pcychological dimensions. The research instrument used in built based on several researcher which had been conducted in Malaysia. t-test, standard deviation, correlation and simple regression are used to analize the data.
The result shows that there is a weak relationship between self-concept and academic achievement. The overall self-concept level of the Form Four students is moderate and there is no difference in self-concept between the two genders. Among the three factors, the social dimension is found to be the only factor which influences academic achievement but only at a very minimal rate.
Actions (login required)