Ummulkhayr, Adamu (2018) Zakah compliance behavior in Nigeria : study of Kogi State. PhD. thesis, Universiti Utara Malaysia.
Text




Depositpertmission_s90831.pdf


Restricted to Repository staff only until 31 December 2019.
Download (29kB)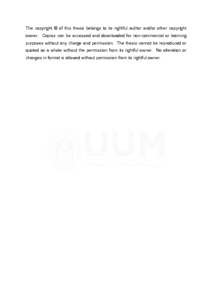 Preview
Text




s900831_01.pdf


Download (1MB) | Preview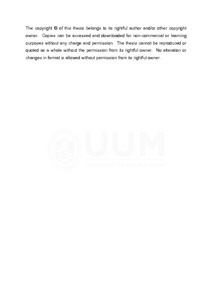 Preview
Text




s900831_02.pdf


Download (714kB) | Preview
Abstract
Zakah as an Islamic institution is capable of reducing poverty. Numerous researches have been done on various aspects of zakah. However, there seems to be little or no information about zakah compliance behaviour in societies where there are neither established governmental nor non-governmental zakah institutions. This study explored zakah compliance behaviour in such societies in Nigeria, Kogi State precisely. Qualitative data was collected through semi-structured interviews with zakah payers, Islamic religious scholars as well as focus group discussion with zakah recipients. Data was analyzed using the thematic method of qualitative analysis. The fieldwork revealed poor compliance behaviour among the Muslims in Kogi State. This is due to factors ranging from individual, iman, ignorance and institutional issues. The absence of zakat institution has not only led to non-compliance behaviour but un-systemic zakah payment and distribution. The study also demonstrated that the omission of responsibilities by the state Ulama'u is among the factors responsible for poor implementation of zakah. The study recommended the institutionalisation of zakah, awareness creation as well as the revival of the role of Ulama'u to increase compliance behaviour and thereby achieve its intent of poverty reduction in Kogi State, Nigeria.
Actions (login required)