Firdaus, Firman Shakti (2012) Pembinaan Instrumen Kepimpinan Islam untuk Pengurusan Kualiti. Masters thesis, Universiti Utara Malaysia.
Text




FIRMAN_SHAKTI_FIRDAUS.pdf


Restricted to Registered users only
Download (2MB)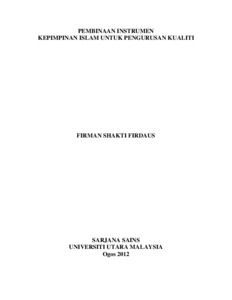 Preview
Text




FIRMAN_SHAKTI_FIRDAUS.pdf


Download (1MB) | Preview
Abstract
Leadership is a subject that has been studied since ancient times through various approaches. Leadership in Islam is a process that guides and motivates its followers or members of the organization towards the achievement of a clear organization purpose and vision blessed by Allah SWT. Existing Islamic leadership theories have not explicitly focused on issues in quality management. This study attempts to contribute towards the development of theory on Islamic leadership for quality management, with the main focus to develop an instrument to measure the leadership for quality management from Islamic perspective. Instrument building measures include the identification of dimensions of the instrument through literature review, construction
of items, checking for the validity and reliability and ultimately the use of factor analysis methods to cluster the items into the related dimensions. A census was carried out on all 45 government departments in Aceh, a Province in Indonesia. The data were collected and analyzed using the Statistical Package for Social Science (SPSS). Leader values and leader traits are the two dimensions identified in the measurement of Islamic leadership for quality management. Based on the two dimensions, a total of seven elements were identified to measure the dimensions of leadership values which are; commitment of leadership, customer focus, quality policy, quality planning, management review, Islamic corporate culture and lastly, responsibility, authority and communication. While the seven elements contained in the leader traits that are al-fahm, al-mua'alli, al-munazzhim, at-tsiqah, at-takayyuf, as-siddiq, and al-fathonah. The study resulted in the development of Islamic leadership for quality management instrument which consists of 71 items. The reliability of the instrument meet established standards. This instrument also has the ability to predict or measure the concept of Islamic leadership for quality management in an organization, especially Islamic-based organization.
Actions (login required)