Mohd Nazif, Badruddin (2017) Analisis mesej dakwah Islamiah dalam halaman Facebook. Masters thesis, Universiti Utara Malaysia.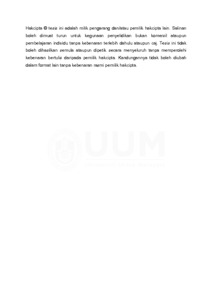 Preview
Text




s819137_01.pdf


Download (3MB) | Preview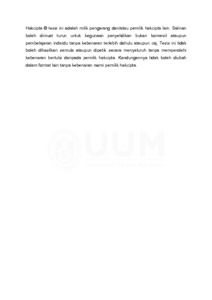 Preview
Text




s819137_02.pdf


Download (806kB) | Preview
Abstract
The current globalization of new media has contributed to the transformation in the delivery method of Islamic propagation message. The preachers start using social media especially Facebook as a medium of propagation due to the many advantages of this medium. Many studies have been conducted in order to understand the acceptance of social media as a medium in delivering Islamic propagation and it is indeed accepted by the society. However, the focus on Islamic messages using the medium is limited and requires a deeper understanding especially in terms of its form, purpose and method. This element should be highlighted as the main objective of Islamic propagation communication is to convey messages. This element must be given attention from various aspects to ensure that any Islamic propagation messages are delivered successfully. Thus, this study aims to identify the category, function and delivery strategy of Islamic propagation messages by five selected preachers in their Facebook. Data was analyzed using the thematic analysis method by employing NVivo software. This research framework is based on Framing Theory. The results show that majority of the messages posted on the preacher's Facebook page focused on worshiping matters. Encourage charity appears as the message's function that often displayed. Whereas writing that contains persuasive information was the main strategy chosen by these preachers. Based on this study finding, an Islamic Propagation Messages Model via social media was proposed. This model can works as reference to preachers and dakwah agencies in practicing and strategizing the development of propagation messages through social media.
Actions (login required)